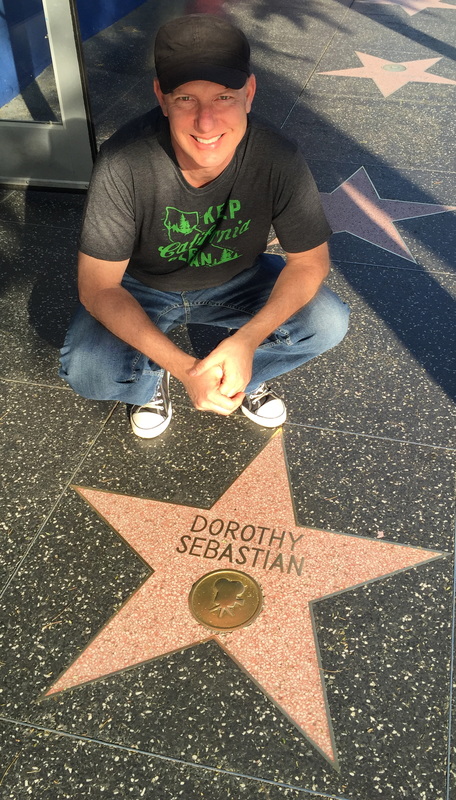 Today I celebrated my 30th anniversary in Hollywood. I know, I gave this town my hair. Here's a quick bit of background. 30 years ago, when I was driving across the US to move to Los Angeles, I got stuck in a giant blizzard--I'll tell that story later. But while stranded in New Mexico I met children's author Fran Lantz and her husband, doctor John Landsberg. They were driving across country to move to Santa Barbara. After we survived the blizzard, they sort of adopted me and we drove the rest of the way to California together (and became great friends). As we got near the west coast they decided to take a detour and come to Hollywood with me and escort me to Musso & Franks (the oldest restaurant in Hollywood--an institution since 1919) just because they wanted to see my face when I experienced Hollywood for the first time (I'd never been west of Arkansas until the move). I was thrilled and followed them down the 101 freeway and then onto Hollywood Blvd. At that time you could park right in front of the restaurant. I miraculously found a space near the restaurant and realized I was right along side the stars on the Walk of Fame. As I got out of my car this naive little actor boy thought to himself, "I'm going to be as famous as whoever is on the first star I step on". I walked to the nearest star and looked down in eager anticipation. The name read "Dorothy Sebastian". I was like, "Who's Dorothy Sebastian?" I asked my friends--no one had heard of her. We went into Musso & Franks, had their New York cheese cake--and that was my very first moment in Hollywood.

But I never forgot Dorothy Sebastian and my little secret challenge to myself to "beat" her. She was born in 1903 and started out in silent films. She did several films that I'd never heard of in the 1920s and 30s. One I thing I had sort of heard of was THE ARIZONA KID with Roy Rogers. The other films I had heard of on her resume were small, uncredited roles. She played a salewoman in 1939's classic THE WOMEN, had a bit role in Cecil B. DeMille's 1942 REAP THE WILD WIND with John Wayne, and her last film was in 1948, uncredited again in THE MIRACLE OF THE BELLS with Frank Sinatra.

Today on my 30th anniversary in Hollywood, I decided I wanted to commemorate the occasion by going back to Musso & Franks for another slice of that cheese cake. I enlisted my good buddy, Jerry Taylor to come along. But first we looked up Dorothy Sebastian on imdb. If you're not familiar with that, it's the Internet Movie Data Base and it lists every actor's credits and ranks them by their popularity. #1 is the most popular actor in Hollywood and it goes to the millions--counting everyone who's ever had a credit in the movies or on television. My number usually bounces around, but today I had Ms. Sebastian beat by over 10,000. On top of that, yesterday was my birthday and it made me one year older than her when she died. So for today, sorry Dorothy, but I beat you. I'm not ruling out the possibility that she was looking down and took an intentional dive in popularity to give me that thrill. If so, I appreciate it. AND it's a good thing I didn't step on the star next to her's first--that's Alan Hale, Jr.--the Skipper from GILLIGAN'S ISLAND. He's a lot tougher competition, but I am working with Dawn Wells (Mary Ann from his show), I'm thinking that at least makes us sort of peers--kind of. So anyway, it's been a slow crawl--but I'm still crawling. The waiter at Musso & Franks said to come back in another 30 years. I think I will. See ya then Dorothy--and it's game on, girlfriend!