MY SISTER IS SO GAY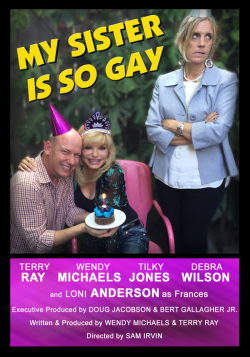 My good pal Wendy Michaels (and fellow pupil of the late great Charles Nelson Reilly) and I have written and produced a new webseries called MY SISTER IS SO GAY.

We star as brother and sister with the fabulous and gorgeous Loni Anderson as our mother! Tilky Jones and Debra Wilson (MadTV) round out the cast and they are both terrific. Sam Irvin directs (he also directed my series FROM HERE ON OUT)!

Doug Jacobson and Bert Gallagher Jr. are our Executive Producers, and we are so proud to have EQUALITY VODKA as our sponsor.

​You can watch all 6 episodes of season one at www.MySisterIsSoGay.com or click on the button to check out the website and for more info! (We're working on season two!)
---
ELECTRICITY
​April 2016 was the world premiere of my very first time at bat as a playwright in the comedy-drama ELECTRICITY.

I starred in it along side the wonderful Kevin Scott Allen. Steve Rosenbaum directed and it was produced by the sublime Michael Darner.

We opened at the Two Roads Theater in Studio City for 5 weeks to rave reviews and wonderful word of mouth. And we were able to return for another 6 week run.

We had special guests host Talk Back Q&A's after the show on Sunday nights that included: Frances Fisher, Tess Harper, Dawn Wells, Loni Anderson, Alison Arngrim, Susan Olsen and Jason Stuart.

For much more info about the show check out www.ElectricityThePlay.com or click on the button.

---

​SHE'S STILL ON THAT FREAKIN' ISLAND
Have to pinch myself a little over this one. I got to write a spoof of GILLIGAN'S ISLAND for myself and the one and only Dawn Wells (YES! Mary Ann in the flesh!) It's called SHE'S STILL ON THAT FREAKIN' ISLAND and explores what it might be like if you know who was still stranded you know where for 50 years...and then I wash ashore! We had such a good time making it, plans are in the works to do several more. Leonard Carter directed & edited.

​Click on the link to watch!

---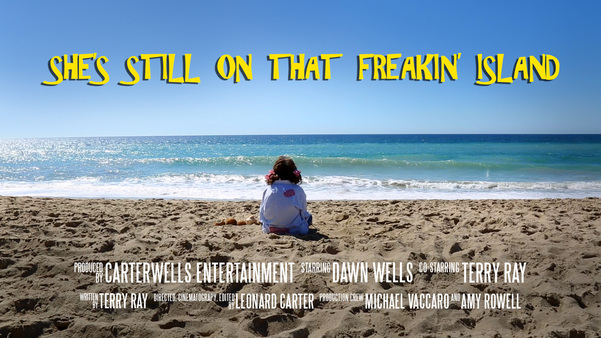 ​THE GAYDAR GUN

AND if you need a little help figuring out if your sister is so gay, check out THE GAYDAR GUN!!
Yes, the GAYDAR GUN!! If you don't know, it's a spin-off toy from my film GAYDAR that my brother, Bret Ray, created. I'm the voice and writer of its 650 wild and wacky sayings. Peeps, it's fun! Check it out at www.GaydarGun.com and if you enter the code word "sexy" during check out you'll get $5 off (that's because you're sooo sexy for checking out my website). Here are some FUN Gaydar Gun commercials we made!
This is one of my favorites--it's a commercial I did for the Gaydar Gun with me as Bruce the Elf. Actually Rosie O'Donnell liked this one too and played it on her talk show and pitched the Gaydar Gun. To watch Rosie go to the www.GaydarGun.com website. Click below to watch me as Bruce!

---




Here I am in the back with some of the cast of my mini short / commercial for the Gaydar Gun called "GRANNY GET YOUR GUN" where Granny uses her Gaydar Gun to get things straight at a wedding.



---

This ONE NIGHT STAND commercial illustrates how handy a Gaydar Gun be for a young single girl dating today's metrosexual crop of men. Having one on your night stand can save a lot of time.




---
There are also tons of Gaydar Gun videos with me on YouTube you can check out. Here are links to some of my favorites where I got to zap my celebrity pals!
I'm starting you off with the wildest! This one is when I went right next door to zap my neighbor and pal, the very fun Jim J. Bullock (who you may remember as Monroe from TOO CLOSE FOR COMFORT). You've been warned. He's WILD!!

---

The one and only Ms. Cloris Leachman let me zap her with the Gaydar Gun...right after she got out of the bubble bath! AND she wanted to do it in her bed. (By "it"... I mean "zap" of course) . Full disclosure, Cloris had just had knee replacement surgery so she needed to do it in bed. (Seriously, STOP with the dirty thoughts already--she's a living legend).

---

Fabulous actress and pal MOLLY HAGAN lets me zap her with the Gaydar Gun in a hotel hallway.




---

I had to be a contestant on Carrie Ann Inaba's game show 1 vs 100 to get a clear shot at zapping her, but she was game and the result might be a little surprising!



---

Openingly gay actor and comic, Jason Stuart, called me up when he had a panic attack over a strange sex dream. I rushed the Gaydar Gun over to his apartment and the entire thing was caught on film!




---






The super uber talented Jai Rodriguez from QUEER EYE FOR THE STRAIGHT GUY, MALIBU COUNTRY and even Broadway gets literally caught with his pants down when he gets a zap from the Gaydar Gun.





---
Some Gaydar Gun pics that make me smile!