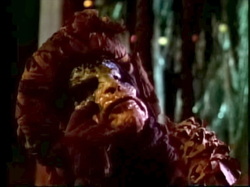 HELL COMES TO FROGTOWN was voted one of the worst films ever made--and oh, yeah, I'm totally proud to say I was in it. It's about these mutant frogs that rule the Earth after WWIII. The only humans left are dominated by a matriarchal society because men are impotent---well, expect for the male lead of course, former wrestler Rowdy Roddy Piper. But the women have to keep his junk padlocked so he doesn't waste it on infertile ladies. See--it's quality stuff, and old time film star Rory Calhoun was in it and he worked with Marilyn Monroe so I was in heaven. I played a Frog Guard--and I had a line, at least in the script. In reality I was given a frog head that didn't have a functioning mouth so "my" line happened when the back of my frog head was toward the camera and the words were plugged in later by someone else in a recording studio.

Oh, well--it's not like anyone could possibly tell which frog was me anyways, the only part of "me" that showed was my eyes. The mask was torture and once it went on it stayed on. They tried to time it to when you'd go in front of the camera but they missed my time by several hours. I had to sit around suffocating in that thing forever waiting for my big close-up. It only had a tiny little hole for breathing. When the time for my big moment came near I was super excited... for about half a second, and all of a sudden I had to go to the bathroom. I mean it was critical. I mean it was urgent. I mean it was most definitely non-negotiable!

Let me back-up for a minute. We were filming in an old abandoned factory that looked like it had been bombed in WWIII. There was twisted metal everywhere. I was wearing the frog head thing and couldn't look down or sideways because I couldn't move my head--it was like I didn't have a neck. All I could do was see straight head. My frog shoes were actually real costume shoes from THE PLANET OF THE APES films. They had big ape toes that were solid and stuck out and super easy to trip on. The worst part were the inside "thumbs". I was always knocking them together and stumbling over them. My trailer, with a tiny bathroom inside, was on the far far side of the factory--maybe 150 yards away through a jungle of twisted metal.

Now remember, I was completely desperado and had no idea if I could make it to a bathroom without a frog costume, much less fully suited up, and my close-up was just 5 minutes away. No time to lose. I told someone I'd be right back. As I scurried along I managed to get my frog gloves off so I at least could use my hands. Every second counted. I was sweating, couldn't breath in that hateful mask and was near panicked as I finally stepped into the tiny trailer bathroom. I lifted up robes, pulled down underwear and....I made it! Thank goodness. What a relief! Until...I got up and realized the entire back of my costume had been in the toilet. I had pooped on my WWIII Frog Guard rag robe costume! Plus, my 5 minutes were up. I couldn't even look down to see the damage. Don't know if I can describe how tiny the sinks are in those little trailer bathrooms and how slight the water pressure is. I had to wash the robes out best I could by twisting them around. I got them pretty wet but wet was better than pooh. I raced the obstacle course back to the set. My mask was so damp and yucky on the inside from fogging up from my heavy breathing I felt like I was drowning.

As I approached, the Assistant Director was calling my name and looking for me. The wardrobe lady grabbed me and said my robes were all twisted and then "They're all wet!". I apologized and said I spilt 7-UP on them. Why 7-UP--no idea, that's what came out.. She actually bought it and said not to worry--the back of my robes wouldn't show in the close-up anyway. Then I was in front of the cameras for my big moment.

That's my HELL COMES TO FROGTOWN story. Check out how calm and collected that Frog Guard is in the photo--well, my eyes anyway, the rest of my frog face didn't move. DANG! Just realized you can't even see my eyes is this pic! You're gonna have to trust me on this--I was totally projecting serious frog guard. Well, serious frog guard sitting on something wet.