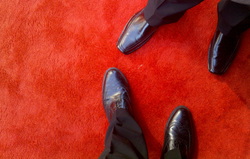 I think it was around 2005, the first time I got to go to the EMMY AWARDS. I was pretty dang excited and my pal Susan L. Jones flew all the way from Greensboro, NC to come with me and amp up the hysteria. (I took Susan to the Screen Actors Awards once too, so now she's spoiled and only visits if there's a red carpet on the agenda--she's soooo Hollywood).

Anyway, we got all dolled up and the moment had finally arrived for us to join the red carpet parade. That year the famous folk walked about 3/4 of the carpet alone, but for the last 1/4 the commoners in the bad seats (that was us), got to join in.

The second I stepped out onto the red carpet camera flashes started exploding and a wall of photographers looking straight at ME started screaming "Terry! Terry!! Over here, Terry!!!" I stood frozen in my tracks. I'd definitely dreamed of this moment, but it couldn't actually be happening for me, right? While I stood puzzling the cameras kept right on exploding in front of my face as the photographers bombarded me with frantic shouts of "TERRY!!!!". I was seconds from going along and flipping my paralyzed lips upside down into a cautious smile... maybe even throw in a semi regal wave when Teri Hatcher stepped around from behind me. They were screaming "Teri" not "Terry". Oh, well. But later that night, in the restroom, I did feel pretty celebrity-ish. I was standing at the urinals in a row of famous Kevins...Kevin Nealon, Kevin James--and there I was, just one pee of separation from Kevin Bacon!