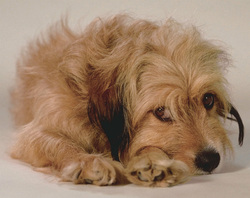 In the early 90s I survived by doing temp work. One time I got a one day job in Beverly Hills to work for an interior designer. I'll call her Linda. Her husband was once part of a rock band famous for a very iconic song, but that's all the clues I dare give. So anyway, Linda was a very large woman... like so big that her stomach extended out further than her arms could reach. She kind of had to pick things up sideways. For example, we went to lunch twice that day (not counting a morning snack). She reached to her side to pick up her plate, and then rested it atop her "ample" bosoms, and ate that way. Now Linda had a little terrier dog, Gabby by her side at all times. Back at the office Gabby even had his own desk, which I thought was fun. During our second lunch, Linda said "Gabby likes you. He doesn't like strangers, but he likes you". I said, "Well, I like him too"! Linda pressed on, "Gabby wants to hire you as his assistant". I was flattered and only slightly weirded out by her habit of talking for Gabby. I just told her that I was a temp because I was an actor and couldn't take a permanent job. Linda said "Oh, that's okay. Gabby likes actors. David Hasselhoff used to be Gabby's assistant and he worked around David's schedule". In my brain I was trying to do the math--KNIGHT RIDER was like 10-ish years old at that time. Hasselhoff wasn't really famous before that was he? Gabby was about 11 or 12 years old--it wasn't impossible for her statement to be true, but I was inwardly skeptical. Regardless, after "Gabby" offered me more money than I was getting as a temp, AND was willing to work around any auditions, I thought why not?!

Now office life with Gabby and Linda was interesting. They had an arsenal of tricks. Linda always wore long dresses custom made for her--all out of the same pattern, but in different colors and materials. Sometimes Gabby would clamp on to the hem of her dress with his mouth and Linda would spin around. Linda made quite a twirling axis so this game would lift Gabby completely off the ground. He loved it and always made a skillful dismount. One day Linda told me that Gabby could count. (I knew he was scary smart, but count? Come on.) She told me to hold up some fingers. I held up 7. She said, "Ask Gabby how many fingers you have". I did and he barked 7 times. He never got it wrong.

When we'd drive around Beverly Hills grabbing our multiple lunches etc., one of my jobs was to tell Gabby stories. They all had to be about farmers and ducks. "Once there was this farmer"... Gabby would bark and look out the window for the farmer. "And he had a pet duck"... Gabby would freak out barking as he scanned for any sign of a duck. I have to admit, story time was sort of fun. Sometimes Linda's husband would eat with us as well. Now he was a very fit and attractive man, but sometimes she was pretty dang sassy with him. I thought she must have some serious dirt on that man for Mr. Handsome Rock Star to put up with her snippy moods, but every once in a while they'd be sweet to each other and he'd start talking all frisky. Remember, this was all in front of me. It was a LOT to process.

Anyway, all was fine until Linda needed to take a trip to San Francisco, and she wanted Gabby and I to go along. Gabby flew in this environment thing that went under the plane. Linda had purchased only two tickets for us. I hadn't thought about the fact that there was no way she could fit in just one seat. While we were waiting to board, an airline employee pulled me aside and said something about Linda only purchasing one seat for herself. I told her I was just the dog's assistant and had no idea what to do. (Linda never mentioned her size, so I sure didn't want to be the one to bring it up first.) They offered me an empty seat in the very back so I just went on the plane in front of Linda, lifted up the arm rest between our two seats and told her I was afraid to fly and needed to sit in the back. Linda was behind me. Her seats were only in the 2nd row, but when I looked back I saw that she had gotten stuck in the aisle between the two rows of seats. Thankfully she squeezed through before I had to do any pushing or pulling, but we later found out she actually cracked a rib in the process. When we got to San Francisco she was in too much pain to try to return, so she stayed in San Fran to heal.

Gabby and I flew back to LA by ourselves and this began several weeks of paradise. Just Gabby and I hanging out and talking about farmers and ducks. We were pretty tight. Lunch went down to a once a day activity, but we did an extended version. All was easy breezy until Linda called and wanted us to fly back up to San Francisco. She missed Gabby. So I got his air travel environment and we flew up. But when I got off the plane--no Gabby! NO GABBY!! After much hysterical panicking on my part, Gabby was finally located...in Vancouver! CANADA!! I couldn't tell Linda that Gabby was in a foreign country for fear that she would stroke out. I decided to fib and say we got bumped from our flight in LA and were having trouble getting another one. In the meantime , I was practically on my hands and knees begging to get Gabby back asap.

The airline did the best they could, but of course it was still hours and hours of waiting and trying to placate Linda. Finally Gabby's flight arrived. I was super happy and relieved to see him, but he wouldn't even look at me. That dog was ticked off about his day and he was putting on the blame completely on me. It wasn't pretty. All I could do was rent a car and drive him to Linda. The entire way I'm talking about farmers and ducks. Nothing. Gabby just dished out attitude in the form of a stone cold, straight ahead stare. If I tried to pet him he literally recoiled. Once we arrived and I parked the car, he wouldn't walk. I carried him to see Linda. She spotted us coming and hurried outside to meet us. As soon as Gabby knew that Linda was watching, that rascal peed all over me. It was totally, 100% on purpose. Linda gasped and said "Gabby has fired you!". And it's true. He had! I was left standing in the middle of the street in a pee soaked shirt with no plane ticket back to LA. Gabby even stiffed me on my last pay check.

Years later I was at an event with David Hasselhoff and I couldn't resist. I went up to him and asked if he knew a dog named Gabby. He didn't say yes or no, he just asked why. I tried to give him a super short version of the story, but he stopped me and insisted I go into full detail, sometimes asking questions along the way. He was with a friend and when I was done, he looked at his pal then said to me, "I wasn't Gabby's assistant". But he said it in such an odd way, I wasn't sure if that was the truth or he just didn't want to admit it in front of his friend. Well, I admit it. I was secretary to a dog... until he fired me.