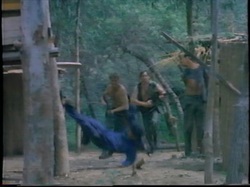 Not too long after I moved to LA, I was super excited to get an audition through my brand new first agent for an actual paying film role! It was a Viet Nam vet movie with prisoner of war flashbacks called NIGHT WARS. And even though it was non-union it actually starred someone I'd heard of, Dan Haggerty from the TV series GRIZZLY ADAMS. In my book, this was absolutely BIG time! I was auditioning for the role of a P.O.W. The casting director said the role included a line which I would be told about later. For audition he didn't seem exactly concerned with my acting abilities, he only asked me to take my shirt off so he could see if my rib cage showed. This is not a role I could readily score today, but in the late 80s, living on a budget of $20 a week, malnutrition was in my method acting repertoire. I got the role!
The film shot "on location", well... Riverside, but that was far enough away that they were going to put me in a hotel for the night between my 2 days of filming. Cool, right?! Well, more about that later. First off I reported to the location where they had built a replica of a Viet Nam prisoner of war camp. The set was in the woods. We gathered in a nearby parking lot where the costumer told me to take my clothes off. So I did. I stood in the parking lot in my underwear for quite a while before she got back to me (it was winter which, even in Southern California, is chilly for just underwear in the early morning). Eventually she fished out a soldier's uniform for me from her trunk. I happily put that on, but then she told me she had to "distress it." Now I want to make sure I'm clear, while I was
WEARING
the uniform she took a board she'd found in the parking lot with rusty nails sticking out of it, and proceeded to shred my costume, as well as more than a few parts of me. At least she said "sorry, honey" when she drew blood. When she finished I was basically back to being half naked and freezing, but heck--it was a real movie and I was super excited!
Now, on to make-up. The make-up gal took a quart of motor oil and poured it over my head. She didn't really do a great job of informing me of her intent before she did it, so I swallowed some of the oil. She thought that was funny. Once I was covered in drippy oil she told me to roll around in the dirt. I did because... I was making a movie!
Now, my "costume" did not consist of shoes, so I had to walk to the set (in the real woods) barefoot. When I got there I was taken to a tree in the middle of the set. I was told enthusiastically that my role was no longer just a P.OW.---I could tell people I was the P.O.W. "tied to a tree." That sounded like a bump up the ladder to me so I beamed a little as I was literally tied my arms around the back of the tree and then added a second rope that tie my neck to the tree. I couldn't move. It was cold and I was shivering. Anytime they shot my direction the super sympathetic make-up gal would squirt me with water to look like I was sweating--which just made me shiver more. I overheard her tell some crew guys that she thought my shivering was cool because it looked like I had a fever.
Also there were big fuzzy caterpillars in the tree and they started to crawl across my basically naked chest. One time a crew guy knocked them off of me, but most of the time I was just set decoration in the background with no one to ask for help. Hours passed. No one untied me, gave me water or checked on me. For a while it was really quiet. I thought maybe they were filming something out of my range of vision. Nope. They'd gone to lunch and forgotten about me. When they returned I told them that. I remember someone saying they felt bad and that they would bring me something to eat, but not until later because they had to shoot a scene I was in. No one brought food and I was tied to the tree by my neck and arms while standing barefoot for about 11 hours. No bathroom break. Not a bite to eat. So, I'm learning that making movies is hard work. But tomorrow I get my line! How exciting is that?!
Back at the hotel I had to share the room with one of the lead actors. At first I thought that would be cool, we could talk about acting and stuff, until he told me that he'd hired a prostitute and did I want to pitch in? I did not. I spent the evening staring at the wall and wishing there was a way to switch off my ability to hear.
The next day I was back in my chilly, gross uniform, closed my mouth when they poured oil over my head and once more became one with my tree. Finally it was time for my big moment. The director approached and told me my line. Let me set up the scene for you. The lead actors are now playing escaping P.O.W. soldiers (but apparently better fed than me). They are blowing away the enemy prison guards and come right by me. This is the moment in the provided blurry photo--I'm tied to the tree on the right.
Gosh, my character was so selfless. I didn't say, "Hey guys, since you're right here and all, could I bother one of you to untie me?" No! This P.O.W. Prisoner (the one tied to a tree) did not care about himself. He only uttered the line "Run!". Now a less experienced actor might call that a "word" and not a "line"...technically speaking it's both.

NIGHT WARS was my first professional paying movie job! Only, the paycheck never came. They stiffed me... but I like to pretend th still counts.