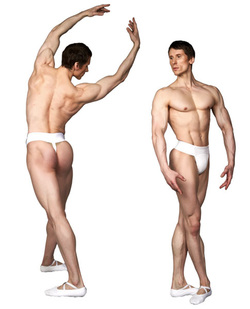 If you're not familiar with the term "dance belt" it's what male ballet dancers must wear to keep their "male parts" from basically appearing in X-Rated 3-D detail underneath those unforgiving tights. A dance belt is not optional, nor is it comfortable. I refer to it as butt floss--as per photo. I've had to wear dance belts as an actor from time to time for various costumes--like when I played a pterodactyl for years in Children's Theater. You cannot have a bulgy pterodactyl at a child's eye level.

But I digress. In my last semester of my senior year of college I was required to take a ballet class (theater major--you had to do everything) and my ballet teacher was an absolute dictator. If you were a fraction of a second late she counted you absent. Once I was racing through the doorway of the classroom as the bell sounded, but because I wasn't in position at the dance bar she counted me absent. This was just a pass or fail class and even though I was never actually absent (other than a few seconds late), if I was "absent" in her eyes just one more time I would fail and therefore--not graduate. I tried numerous times to explain that the class before hers was my advanced acting class on the absolute opposite side of a vary large campus, and sometimes we had scenes with costumes and props etc. and then I had to race across campus to the locker room, take off all my clothes, throw on the ballet tights and get to the bar. To do ALL of that I had exactly ten minutes. Her understanding response was "one more absence and you don't pass".

Well, at least I knew the rules. Anyway, there were just a couple classes left and I was like a well planned rocket launch. As soon as acting class was over I projectiled myself across campus and in route mentally rehearsed every move to get my clothes changed as quickly as humanly possible. I threw that stuff on and made it to the dance bar with 20 to 30 seconds to spare. But on one of those occasions, as we started to do our dance exercises, things felt wrong...very very wrong. I couldn't figure out what was going on with my tights situation, but there was definitely an issue. I tried to pull my T-Shirt down as far as I could, but it didn't cover a whole lot and there were mirrors catching me from every angle painfully illustrating a whole lot of wonkiness going on down below.

Now I was not what one would call a "gifted" student of the art of ballet and the teacher would often correct me in front of everyone. This was not the day I wanted everyone's eyes on me, so I tried with every awkward dance-challenged fiber of my body to get the moves the very best I could--which sort of required me to not focus on pulling my T-Shirt down and avoiding bad angles in the mirror. Well of course I couldn't keep the charade of competent ballet dancer guy up. Sure enough the teacher came over and started correcting my body positions... until I saw her look at me in a way that caught her off guard. Her face soured in disapproval for a second, then she quickly moved on to the next person and left me alone for the rest of the class.

I still had no idea what was going on down south until I got back to the locker room and took off my tights. I had put the dance belt on backwards. That butt floss string was making all kinds of hideous and bizarre bulges in the front and then with the pouch now in the back, it basically looked like I'd crapped my tights. There's no doubt everyone in class saw it. I passed ballet--but I've avoided class reunions.