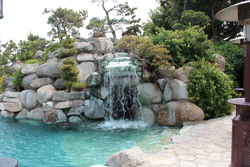 My good pal Larry got invited to a big honking party at the Playboy Mansion. His partner Mark couldn't go so I jumped all over a fabulous sloppy seconds invitation. When I told my brother I was going he said "that's so not fair, the Playboy Mansion is wasted on you"! He was sorta right, but whatever. I was still excited to go!

It was a big event with tons of people, so it was outside in a giant tent and also spilled out around the pool. No one was allowed inside the house...so technically it was Playboy Mansion adjacent, but close enough. We soon scrapped the crowded tent and decided to explore the pool area--specifically the famous cave grotto that people swim into, though no one was in the water that night (not that kind of a party). To be honest, the grotto seemed like it would have been super cool in 1968... but sort of hadn't been updated much since then. I remember a giant console that held a phone receiver on one side—in the middle were big white, square buttons that lit up (don't know what they were about) and a rotary dial for the phone on the far side. I didn't really want to touch anything because the whole place reminded of me of a story I'd seen on 60 MINUTES--where they show the nasty hotel bedspreads under ultra violet light. You really don't want to see the pillow fabrics of the infamous grotto under black light conditions.

Further investigation outside revealed a pathway with stairs to the top of the grotto which we thought might be a great vantage point to really scope out who was at the party. The entire grotto was probably around 15 to 20 feet tall--a nice spot to people watch, so that's where we headed. We spied Hugh Hefner with some blonde triplets (everyone was an unnatural shade of blonde and sort of all looked alike--but the triplets did that act better than the rest). After a little while I suggested we head back down for a closer look.

Now this whole grotto island complex consisted of giant stones but of course was man made. There were holes in the rocks and cement for the roots of plants to grow in. When I took my first step off the top and back down onto the stairs, Larry was on the inside and I was on the side closest to the pool. He was chatting and slightly ahead of me when my foot went into a huge hole in the rock where a plant should have been but wasn't. The rest seemed like it was in slow motion—I tilted over the edge of the path but thought "I'm not going to fall". However, when I realized I really was tipping over I dropped my cocktail (okay, it was 7-UP but it was in a real glass) and tried to balance, but I was on my way down. I didn't tumble too far at first and thought I was done falling but then my head when into a bush and my left hand went into something wet and sticky. I slowed a bit and thought that was it, but, nope I rolled over some more rocks and plants until there was a vertical drop—probably about 10 feet. At the bottom there were a couple possible landings options—I could have gone in the pool with all my clothes on (remember, it wasn't that kind of a party but this would have been the time to make an acception as that would have likely been the least painful option), or I could have fallen flat on my back on the cement beside the pool (ouchie), or, unbeknownst to me at the time---the playmates had several inflatable pool toys that were stacked near by and I landed perfectly on top of a giant beach ball.

A couple guys rushed over when I hit the bottom to see if I was okay. I'd hit a bunch of rocks and my leg was really hurting. I thought it might be broken, but when I jumped up out of shear embarrassment, my leg worked, so I told everyone I was fine. Larry was still chatting to me (he thought I was right behind him the entire time) until he saw me standing in front of him and realized that I'd fallen off the grotto.

With Larry's help I assessed the damage. My palms were bleeding, my best pants were torn, there was goo on my head and I was generally beaten up, but everything was working. Larry was worried, but I told him I was fine. He got me some cocktail napkins so that I could hold them and stop the bleeding from my hands. Then we set off to stare at Hefner, just to say we did. After we squeezed through the crowd and got a good look--I said "AFTER", right? That's when Larry plucked off a big leaf that had been stuck to the top of my head. This is a clear illustration of why sometimes it might be handy to have a friend taller than oneself, as he claimed to not have noticed the giant leaf stuck to the top of my head until then.

When I felt like I'd had a sufficient Hef experience I thought I'd best deal with the blood thing. I told a security guard that I fell down and needed some band-aids or something, but he just looked at me and said he didn't know where I could find one. I tried to explain again that I fell off the grotto because there was a hole in the stairs (a subtle attempt to highlight that it wasn't so much my fault) but he remained silent. I said, "maybe you don't where I should go to get help, but perhaps there is someone you can point me to that might know." Finally he pointed us toward the bathrooms for the pool changing area. They were like little bungalows with sinks and mirrors. Each one had a scary looking bimba camped in front of the mirror layering on make-up. They looked like the kind of girls that were past the point where they got invited inside the mansion to put on their faces. I just needed to get to a sink to wash off the blood, but none of the girls looked like they were going to budge any time soon, so I went up to one and said, "I'm sorry, I fell and I'm bleeding. I just need to wash my hands real quick". She stared straight in the mirror without missing a beat of mascara layering and said in a Marilyn Monroe gone very bad voice "Shit happens". She didn't budge. Then she threw in "Betcha looked good doing it". I turned to Larry and repeated her "Shit happens" line. He didn't stop laughing the rest of the night. In hindsight, I should have sued.