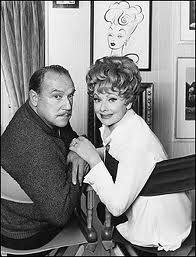 My friend Susan L. gave me a fishbowl one year for Christmas. I got two fish--one was red, so I named her Lucy. The other one was black, so he was Ricky. Well poor Ricky had a stroke and died. So then I got another fish to keep Lucy company. It was kind of homely, with a big puffy chest. I named that one Mr. Mooney.

Lucy didn't like him from day one, and she ate Mr. Mooney's tail and fins off--right down to the nubs. He couldn't swim. Poor thing had no choice but to lay upside down at the bottom of the bowl with Lucy biting his butt every few minutes. If it wasn't for his big eyes just screaming--ouch--you'd think he was for sure dead.

Well, I was pretty ticked at Lucy and put her in another bowl. She didn't like being out of the big fancy bowl at all and up and died. Meanwhile, everyone is telling me I have to flush Mr. Mooney to put him out of his misery--I couldn't!

I was determined to do whatever it took to help him. I got some tweezers and held fish food flakes up to his mouth. And sure enough he started eating like gang busters. His tail and fins grew back bigger than before. And he could swim fine, but he remembered that he really didn't need to. People would come over and see him floating upside down in the bowl and they'd say--"em...Terry, your fish is dead". And I'd have to explain that he was okay, just really lazy. Then I'd go to his bowl and yell "Mr. Mooney--roll over!" And sure enough--every time he'd wiggle around real embarrassed-like and start swimming right.

Eventually he got to the point where he'd float upside down at the top with his chest completely sticking out of the water. I thought--what the heck and started rubbing it. He liked it. Truth be told, folks were really impressed with Mr. Mooney's talents and some friends encouraged me to put him on TV--like David Letterman's old Stupid Pet Tricks or something. I gave it some thought, but in the end I guess I just couldn't handle the possibility that my fish might score a better agent then me. I'm not proud of myself--I'm just being honest.