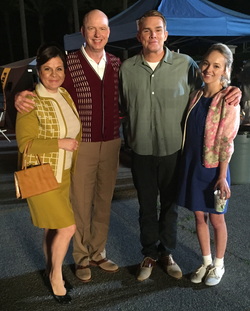 Super excited to be in David Spade's JOE DIRT sequel, co-written and directed by Fred Wolf. Here's a pic of my cinema family, my wife Maria Quinones, the handsome and talented Mark McGrath is my son (it'll make sense once you see the film) and Kimberly Rose is my daughter. Special thanks to producer Amy Kim for recommending me for the role. It's a wacky and wild scene y'all, get ready!

Hate to be a name dropper, but I'm gonna be... here's a partial list of my castmates:

Patrick Warburton, Christopher Walken, Brittany Daniel, David Spade, Mark McGrath and Kid Rock.