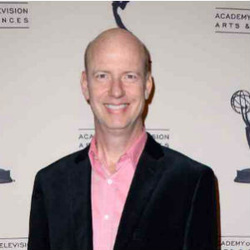 'From Here On Out' Creator Terry Ray Talks Creating The Gay TV Romp on Here TVby
Jim Halterman
| April 11, 2014 at 2:59 PM |
General
,
LGBT
Creator/Actor Terry Ray
One of the bright spots on Here TV these days is the hilarious new sitcom that turns the camera back on the wackiness of the TV business with "
From Here On Out
."
In the series, Jimmy Randall (
Terry Ray
, who also created the series) gets the green light to produce his own sitcom but with the stipulation that his lead actor be gay, things complicated with the perfect actor for the job, Sam Decker (played by
T.J. Hoban
) admits to Jimmy that he's straight. Not wanting his TV series to go up in smoke, Jimmy and Sam decide to masquerade as a couple and, as you'd expect, insanity ensues.
I grabbed some time with Ray to talk about creating the series, casting legendary actress Juliet Mills ("
Nanny and the Professor," "Passions"
) and whether he's already thinking about a second season.
Where did the idea for "From Here On Out" come from?
As an openly gay actor I've witnessed many guys trying to stuff themselves into that proverbial closet at auditions and on the set. I thought it would be fun to flip that around and spoof that by having a straight actor have to pretend to be gay to get the role and then show him forced to live with that lie. I shared that with
David Millbern
(my producer) and he brought me to HERE TV. At the meeting they made it all even more juicy and fun by saying, "Spoof us! Let's change it so that your characters are doing a show for HERE TV." When they gave me the freedom to spoof the entire world of a gay TV station, then everything just clicked for me and I couldn't wait to start writing.
Did you always know you'd be in the show as Jimmy? Or did that come about in an unusual way?
I'm the show's writer and creator, but I've always been an actor first, so come on, I HAD to give myself a juicy role or my Momma would have slapped me hard! Part of the deal from the beginning was for me to play Jimmy and everyone was supportive of that. The fun for me as both the writer and actor was to spoof my own world with that character–my years of struggling in the business, my not so successful dating life etc. I poke a stick at myself as much as I do anything else and that feels right.
The hunky men on the show – are they disappointed when they have to do a scene with clothes on?
I don't know if they are, but I sure am! My hunky guys are incredibly talented, funny and brave. I'm so proud of them. For example,
Michael Lanham
who plays Brad, is wearing the world's tightest pants. The poor guy literally couldn't sit down because his pants were too tight to bend. And then, our director (the fab
Sam Irvin
) kept asking him to pull his pants down lower and lower. (Full disclosure, none of us thought that was bad direction). Well, Michael kept going to the bathroom and coming out with those pants miraculously lower every time until it was impossible to go even one millimeter lower. Thank you Michael (and Sam)!
Juliet Mills — how did she come to the show? (Love her!) Has she shared stories from her days on "Passions?"
I tingle when I think about having Juliet Mills on my show. She's awesome! Back to our director, Sam Irvin, he had worked with Juliet's hunky husband,
Maxwell Caulfield
and then became friends with Juliet. Sam got her the scripts and she loved the role. Then after some moderate arm twisting she said yes, which was very brave of her. She's on a gay show with naked guys–that's something any Emmy Award winning actress of her caliber would have to consider, so Juliet's courage rocks my world. We talked a little about "Passions", both my leading man,
T.J. Hoban
and I had guest starred on "Passions," but neither one of us had a scene with Juliet. My favorite story she told me was that her godmother was legendary actress,
Vivian Leigh
, and one time Vivian took her to a special screening of "
Gone With The Wind
." So she's sitting with her godmother and watching Vivian watch herself as Scarlett O'Hara. Dang!
The fake relationship that Jimmy has with Sam…can we expect them to connect on some kind of level, even if it's not sexual? (Or maybe it will be just that!)
Jimmy and Sam are each other's one true ally, so there's a natural affection that is brewing. Next season they move in together and have to keep the charade of their relationship up by sleeping in the same bed. Sam sleeps naked so Jimmy…well, he doesn't sleep, EVER. I think that's all I'm going to say for now.
Assuming the show is a hit and goes to a second season, do you already have ideas where you want to go next with it?
I tipped my hand about the 2nd season with that last question, because yes, it's already written and thankfully in the pipeline to be filmed in a few months! I can't wait because the first season ends with our fictional show "Guy Dubai: International Gay Spy" going into full production. In season 2 things really start to get wild and crazy. You see a hint of Jimmy and Sam's past romances in season 1 as played by the awesome
Julie Brown
and
Sam Pancake
. Well, those characters are stirring the pot a lot in season 2. Also, watch out for the maid, Divina's ego (played by the delicious
Suzanne Whang
). There are no limits to how talented she thinks she is. PLUS, more hot guys–of course!
You did a great job integrating Here/Out/Advocate into the show without it coming off as product placement. Was that a challenge to master?TR:
I just thought of all the elements of HERE TV, OUT magazine and THE ADVOCATE as additional colors in my crayon box and had fun playing with them. I'm not privy to any of the real workings of any branch of the company so I just used my imagination and crossed my fingers that I didn't get fired whenever I turned in a script. So far, they've given me free reign to just lampoon all of our worlds and I give my executive producers,
Paul Colichman
and
Stephen Jarchow
a big heap of credit for that!
What can you tease about this week's episode?
Well, my character, Jimmy stands up for the show in a strong and impassioned speech and gets rewarded with a kiss. I'm not going to say from whom. (Oh, and there might be a three-way at some point during the show)
"From Here On Out" airs Fridays at 9pm on Here TV.